Our Team
For Recruitment/Talent Acquisition/ HR Support Process
This function is headed by Dr. VM Handa-a professional having over 30 years rich experience in HR, Personnel Management, General Administration Facility Management, Employee and Industrial Relations across diverse industry verticals.
Company is staffed with moderate team of 50+ people PAN India Offices in Mumbai, Pune, Delhi.
Dedicated team of HR Consultants is based at our offices with support voice process team to ensure candidates line up for manpower requirements of our client-partners.
For Training & Development
The team is headed by Dr. Richa Bhargava-veteran from the field of HR with two decades of successful industry experience and has herself conducted many successful training programs.
We have 200+ Training Development Experts from across sectors/industry and have the privilege to conduct 5000+trainings in last 5 years PAN India both for SME/MSME's to established companies.
For Business Coaching
This function is headed by Dr. Ravindra Pratap Gupta-has successful track record of two decades across sectors and guided many businesses and in process towards success. An Alumni of IIM-Ahmedabad, Chief Mentor eCell IIT Bombay & Distinguished fellow from Institute of Directors-London-UK.
We have team of 100+ Business Coaches who have and in process guided many businesses successfully towards conceptualization to execution.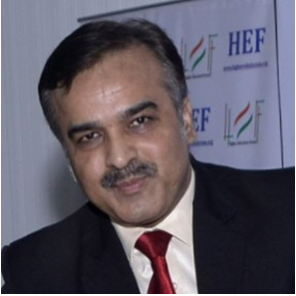 Dr. Ravindra Pratap Gupta - Chairman
Dr. Ravindra Gupta is a versatile professional who has been successful in his corporate journey spanning over 2 decades as a Consultant, Adviser & Board Member in companies spanning across sectors as Pharma, Retail, Healthcare, Distribution, IT and Education. A dynamic professional in Corporate Governance, Marketing, Sales and Operations with strong, decisive executive leadership in well-known organisations.
Presently he heads the company M/s Aviyana Ventures Pvt. Ltd. Which is giving strategic advisory to companies in Health, IT, Education and Retail, considered as one among the fastest growing companies in India in services sector.
Some of his notable Industry Associations: - Dr. Gupta has been functional ly engaged in establishing presence for pharma majors in various locations within the country having played pivotal roles with Micro Labs Ltd, Wanbury Ltd. (erstwhile Wander Novartis Pharma), Aventis Pharma Ltd and Lloyds Labs. Have been associated in healthcare among the top management cadre personnel of 1500 bedded Asia's biggest hospital SevenHills Hospital & Health-city.
Dr. Gupta has been a core part of the healthcare retail business of the Future Group and has been instrumental in setting upthe vast network of in store Wellness Stores with India's leading Retailer Future Group in North, West and Gujarat Zones. Dr. Gupta had been associated with the Indira Group of Institutes since December 2008, having held the position of Director at Indira Group of Institutes.
Has been instrumental in bringing successful transformations in difficult situations with able guidance and spearheading leadership. His strong corporate network and sector knowledge brought about turnarounds in organisations he has served and is one of the most acclaimed faculty in Marketing & Branding affiliated with some of the leading Education Brands as iFeel, ITM, Dr. Dy. Patil, Bhartiya Vidyapeth & MGM etc. A versatile le speaker on various industry forums and a mentor to the prestigious llT Bombay for entrepreneurship cell. Besides has a credit of nurturing many start-ups with his vast knowledge.
Chosen as one among top 25 healthcare consultants in India. One of the Founding Member of Navi Mumbai Chamber of Business and Industry, member on various leading international accreditation bodies in Education and jury member for various national and international awards.
Industry has acknowledged his work with conferring him
2011 Mother Teresa Award for Excellence in Execution
2011-IEDRA Excellence Award
2012-Global Achievers Award for Excellent Industry Interface
2012-RK Excellence Award for Best Marketing Professional of The Year"
2013-Business Consultant of the Year by IEDERA
2016-Radhakrishna Krishna Award as Educationist of the Year by International Human Rights Organisation.
2017-Business Consultant and Management Guru by Global Achievers Foundation in Bangkok
2017-HEF Award for contribution to higher education
Besides being nominated among top 50 Global thinkers from India from MTC Global Foundation. Other Notable present affiliations include Dr . Gupta is the Board Member at Oriental Group of Institutes, leading brand in education sector, Board Member-Zynara Healthcare Pvt. Ltd. a leading healthcare company, Board Member-Change Networks Pvt. Ltd. & Tesseract Global­ leading IT Solutions companies, Strategic Advisor for Asia Pacific for world's leading digital health company NCORD Healthcare LLP.
On Education front Dr. Gupta is an Alumnus of BHU and has double doctorates in Management and has been associated with IIM-A and prestigious Institute of Directors.
Industry affiliations and contributions presently as Life Member in various organisations makes him the most sorted person in industry:
IOD-Institute of Directors-Centre for Certified Corporate Directorship
IIM-Ahmedabad Alumni Association
HEF-Higher Education Forum
BMA-Bombay Management Education
CSI-Computer Society of India 
Linkedin: linkedin.com/in/ravindrapratapgupta

Twitter: twitter.com/ravindra9
---